VTI Instruments X-Modal III Modal Analysis Software with Embedded Data Acquisition
VTI Instruments X-Modal III Modal Analysis Software with Embedded Data Acquisition
Product Overview:
Autonomous Modal Parameter Estimation Procedure

Multiple Live Parameter Estimation Windows

Task Oriented, Easy-To-Use Interface

Logical Operation Always "One-Click" away

Simplified "Copy & Paste" Data Management

Simplified Units Unification Tool

Based on MATLAB® Computational Engine Environment

Universal File Format (UFF) Data Access

Individual Data Channel Calibration
Open-source Programming Environment
X-Modal III is based on MATLAB®, an open-source programming environment. X-Modal is also not captive to data formats like traditional modal analysis tools. Data can be exported in multiple common file formats to like Universal file format, Excel, Matlab™, Quicktime movie, or JPG. This ensures that the user is not bound to using proprietary software with expensive maintenance fees in order to access stored data.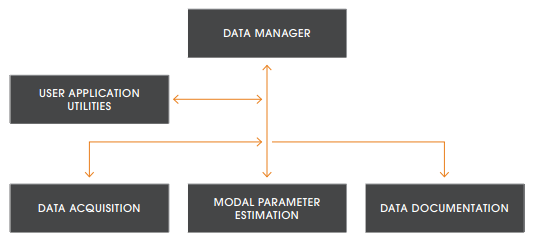 Extensive Capabilities
X-Modal III offers a wide range of capabilities providing virtually every toolset required for performing complex structural tests.
Data Acquisition Modes
Data Signal Processing

MIMO FRF Estimation

Multiple Reference Impact Testing (MRIT)

General Auto/Cross Power Spectra Matrix

Block Time Domain

Sensor calibration modules

General Windowing Support

RMS and cyclic averaging

H1, H2, Hv FRF Algorithms

Pre and post trigger

Units support

Multiple source control for MIMO
X-Modal supports all commercial MIMO (Multiple Input Multiple Output) MDOF (Multiple Degrees of Freedom) algorithms plus many research options. Autonomous modal parameter estimation procedures are available with all MDOF methods, with statistical mean and standard deviation information available for all modal parameters.