AR Modular - AR-20 - 20 Watts PEP, 30 - 512 MHz, Tx/Rx Booster Amplifier with LNA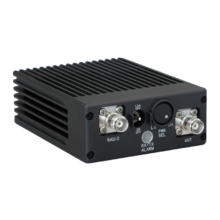 The Model AR-20 is a portable, lightweight, fully automatic band-switching RF booster amplifier for use with multi-band VHF/UHF Tactical Radio equipment employing legacy, proprietary and networking waveforms. The AR-20 produces 20 Watts from a 1 to 2 Watt PEP radio input and covers the frequency band of 30-512 MHz. The unit has a wide range input DC voltage allowing operation from a single battery (XX90 battery) or 12 and 28 VDC vehicle power sources.
It also includes Over Temperature Protection, RF sensing, T/R Switching, Automatic Level Control (ALC), Harmonic Filters, Co-Site filters and protection against antenna mismatch. The AR-20 also has a built-in internal LNA that can be switched on or off by the front panel switch to improve SATCOM receive performance. The amplifier is comprised of a rugged 4-piece aluminum case. Optional interface coaxial cables, DC battery cables, and kits for man-packing the amplifier are available.
More Product Information